At Evermore you can expect unparalleled dementia care in safe and stimulating environments with a team of specialist carers who favour an individualised and person-centred approach. They have a wealth of experience and are highly trained in dementia care. Our dedicated team are on hand around the clock to help ease daily obstacles, encourage you to take part in activities and help you live a meaningful life whilst living with dementia.
Getting to know you
Before you even move in, we sit down with you and your family to learn about you as a person. We want to hear about your fondest memories, your childhood, your hobbies and interests and your family. These details allow us to build a picture of you as a person and really help our team to personalise your care. By going above and beyond in this way, our team can better support you in rediscovering your purpose in a secure environment and showing you that you are still able to enjoy a full and meaningful life. We also encourage you to bring your personal items to your new home. This is your space, and we know that they can be a source of great comfort and trigger fond memories and milestones.
Families
We know it's important to support your loved ones through this process. Frequent communication with families is a priority for us because no one knows you like they do. Every month, we hold a manager's surgery where your family members can book in a slot with us and chat through anything they feel they need help or guidance with. This could include detailed updates on your wellbeing or advice on how to best support you. We also host a monthly relatives' meeting where families can get together to share experiences and concerns. Knowing that someone else is going through the same thing as they are can be a source of great comfort for them. We also invite speakers and industry experts to talk through their experience, share their knowledge of dementia and offer advice.
Our team
With Evermore you can expect years of experience in dementia care, but what really sets us apart from other homes is our commitment to training. We are constantly investing in our team's skills and knowledge to ensure that we are offering the very best care to our residents living with dementia. Our team takes part in regular training, observations, appraisals and senior members of the team are always on hand to offer extra support.
Dementia bus training
It is vital that our team have a real understanding of the lived experience of those living with dementia in our care. Our team complete an innovative training programme called the 'Dementia Bus', in which they gain valuable insight into the daily challenges of those in their care. This has been a huge success and we look forward to finding new and innovative ways to ensure our team is constantly learning and improving.
Activities
For those living with dementia, activities are an effective way to give you a sense of purpose, establish a daily routine and allow you stay connected to that part of your identity. Sitting down with you and your family allows us to understand your interests and passions and means we can create a bespoke activity
package just for you. We encourage our residents to rekindle their love for old hobbies and be open to exploring new ones. There is no one-size-fits-all approach to an activity programme as we want it to be a true reflection of you. Whether you have a bucket list that we can help you work your way through, or you just want to pursue your love of gardening, our team of specialist activity coordinators have got you covered.
Facilities
Our Astley View home features state-of-the-art technology to create a calm and safe environment for our residents living with dementia. Working with the latest technology in dementia care allows our team to focus on your care and allows them to spend more quality time with you.
Acoustic monitoring
We ensure our residents feel safe day and night with our acoustic monitoring system. This pioneering technology means we can offer non-invasive monitoring rather than the standard 1-2 hourly checks from our team so that you can enjoy a better quality of sleep. Read more about our acoustic monitoring system.
Book a Visit
Get in touch today to book to see one of our residents.
What our residents and families say
CQC rated
Ashton Manor care home is proud to receive an overall CQC rating of Good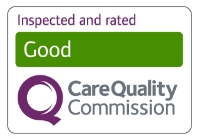 Top 20 Award
One of the winners of Carehome.co.uk's Top 20 Care Home Awards 2023
Get the latest job alerts