Today, we chat to one of care assistants at Ashton Manor – Louise
Louise has been with us for over a year, and is not only a care assistant, she also acts as a buddy to new members of staff, introducing them to the team, showing them the ropes, and making sure they feel welcomed into the Ashton Manor family
What is your background?
My background is in care, I've worked in this industry for over 9 years on dementia and end of life units, working at Ashton Manor has given me the opportunity to see the other side of this, working with people living with dementia.
I've also spent time working with St Johns Hospice, that really opened my eyes and made me think about focusing on people's quality of life, as well as providing them with as much dignity as possible.
My experience has taught me to always make sure that I'm attentive and gentle, always offering as many choices as I can, if someone wants breakfast in bed, then why not!
What does your role involve?
I try to give more than just personal care, although that is important, I spend a lot of time helping people to look the way that they want to look, and to making sure they feel safe and happy.
I assist at meal times, and join in with the activities, it's my responsibility to make sure that people have the best day that they can, and one of the biggest parts of my role is trying to help people to communicate what they want to do with their day, and making them smile.
We really are a family here, and we believe memories shouldn't stop when people move in with us, so we try to make sure we keep families up to date with their loved one's care. It's always so lovely to hear family's say they feel like they have their loved one's back.
I work across both floors, and I'm particularly passionate about Forget Me Not, we're working hard to build a brilliant team.
What does a typical day look like?
Every day is different, every hour is different. I try to grab one to ones with both hands to make the most of our time together. A typical day on Forget Me Not can involve trying to capture the good moments and expanding on those, planned activities don't always work out!
Simple things like going for a walk on a beautiful day can make such a difference to someone, and that's not always something we can plan for. It's great to be able to be flexible, not everyone wants to do the same thing and choice is so important.
Our lifestyle co-ordinator asks residents individually what they want to do, and we do our best to accommodate everyone.
What makes you happy and proud about working at Ashton Manor?
Making the residents and families happy, I don't like to leave the families out and I try to make sure that they know who I am and how passionate and lucky I feel to work here.
All of the staff are different characters but we all have our passion in common. If I can teach the new starters some of what I've learned on my journey then I feel like I've done a good job. It's a great atmosphere here and I love coming in to work every day.
I'm always sad to see people go after they've been with us on respite, but one of the things I love is seeing that a lot of the residents do tend to come back for a longer term stay.
We want to make sure that families know that their loved ones are in good hands, that they are safe and happy. If we know a family member is struggling, we can call them to give them some reassurance as we know just how overwhelming it must be for them, and what a difference it can make to hear from us.
CQC rated
Ashton Manor care home is proud to receive an overall CQC rating of Good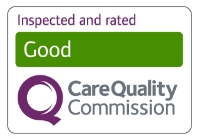 Top 20 Award
One of the winners of Carehome.co.uk's Top 20 Care Home Awards 2023
Get the latest job alerts