A Warm Welcome to Our First Resident at Astley View
In the heart of Chorley, a momentous occasion has unfolded at Astley View. We were delighted to this week announce the successful move-in of our very first resident. This marks a special chapter in the story of Astley View, embodying our commitment to providing not just a care home but a warm and vibrant community for our residents.
Allow us to introduce you to Diane Wallbank, a remarkable individual with a wealth of experiences and a heart full of warmth. Hailing from Chorley, Diane's journey is a history of community engagement and a passion for people. From running a Brownie pack with 24 children to serving as a councillor for Euxton Parish for a decade, Diane's life has been dedicated to connection and care.
Diane shared her excitement, saying, "I didn't expect the reception I had today when I was welcomed to Astley View. I have never cut a ribbon in my life, and to cut the ribbon at Astley View and be the first Resident is amazing. There are already other residents moving in this week, so I can't wait to meet them. The staff are all so friendly, and it's an honour to move in, it's so luxurious. They've pulled out all the stops for me, and I'm delighted."
The community at Astley View is buzzing with excitement as we celebrate Diane's arrival. Our team, dedicated to creating a nurturing environment, is eagerly anticipating the shared laughter, stories, and shared moments that will fill the corridors of Astley View.
Christina, our Home Manager, expressed her joy, "Welcoming Diane to Astley View is a moment of immense happiness for all of us. Her vibrant spirit and rich life experiences will undoubtedly add a unique charm to our community. We are committed to ensuring that Astley View is not just a residence but a place where each individual feels a sense of belonging and comfort."
Astley View is not just a care home; it's a haven designed to cater to the unique needs of each resident. Diane's move-in reflects our commitment to personalised care. Christina added, "Astley View tailors care plans to each resident's unique needs by completing a thorough preadmission assessment. Diane's transition is a testament to our focus on not just meeting but exceeding the expectations of our residents."
The ethos of choice permeates every aspect of life at Astley View. From communal dining experiences to tailor-made activities, residents actively participate in decision-making, fostering a sense of belonging and community. The community spaces, including galleried cafe/bistro and landscaped gardens, are designed to bring the outside in, creating an environment that promotes well-being and joy.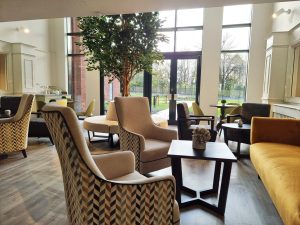 As we celebrate Diane's successful move-in, we invite you to share in this moment of joy. Diane's journey at Astley View has just begun, and we are so excited to start welcoming the rest of our residents to Astley View.
For more information on the unique and vibrant community at Astley View, press the 'Enquire Now' button to get in touch with our friendly. Join us as we embark on this journey of care, connection, and community at Astley View.