We design our homes with you in mind
You are at the heart of our homes and that starts with the design itself. Using our experience, we have designed our care homes to exceed expectations. We go above and beyond to create spaces that cater for our residents needs in a stylish and comfortable way.
It is imperative that we create homes that are modern, airy and bright but with that homely feel. We have selected every aspect of the décor with you in mind, including specialist furniture specifically designed for care homes. From seam-free carpets right down to different shaped door handles for those suffering with arthritis and visual impairment, every effort has been taken to ensure that the details that make the difference have been taken care of for your comfort and dignity.
We have designed homes with space in mind, you will find large bedrooms, assisted spa rooms, living areas and wide corridors for that airy, open feeling so you always feel you have space to do what you choose.
With floor to ceiling windows, balconies on the upper floors and patio doors leading off the ground floor bedrooms, we work to bring the outside in for our homes. Whether you're keen to enjoy a breath of fresh air, enjoy a morning sunrise or relax in the evening, it couldn't be easier to get outdoors
CQC rated
Ashton Manor care home is proud to receive an overall CQC rating of Good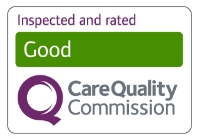 Top 20 Award
One of the winners of Carehome.co.uk's Top 20 Care Home Awards 2023
Get the latest job alerts